Socionext Introduces Ultra-compact, Ultra-low-power 60GHz Radio-frequency Ranging Sensors for Automotive Applications
Langen/Germany and Yokohama/Japan, 29. May, 2023 --- Socionext Inc., a global leader in high precision sensor technology, today introduced the SC1260 Series radio-frequency ranging sensors for automotive applications. This new series utilizes the 60GHz frequency band and time-division multiplexing (TDM-MIMO) operation with multiple transmitting and receiving antennas that can detect the position and movement of passengers in a vehicle with maximum accuracy.
The SC1260 has an all-in-one configuration that incorporates antennas and radar signal operation circuits, to achieve maximum detection accuracy in an ultra-low-power, ultra-compact package. The high-precision sensors use a wide band of 6.8GHz (57.1 to 63.9GHz) with an expanded number of receiving antennas by TDM-MIMO operation and built-in radar signal operation circuits for range-finding and angle calculation. The devices enable easy acquisition of three-dimensional (3D) position information without requiring advanced expertise in high-frequency devices and signal operation. It Combines antennas, RF circuits, AD converters, FIFO memory, SPI interface, and intelligent power control sequencer for flexible duty cycle control. Power required is only 0.72mW at 0.1% duty cycle operation.
Photo: SC1260AR3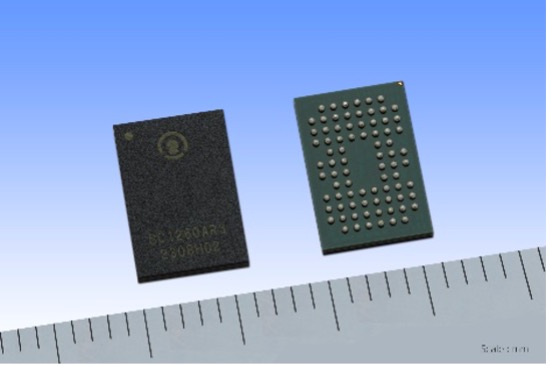 These capabilities make the series optimal for applications such as tracking the position and movements of passengers in a vehicle while suppressing the load on the vehicle battery when the engine is off.
The SC1260 Series complies with the global broadband 60GHz radio equipment standard. Sample and evaluation kit shipments are scheduled for June, with production volumes to be available in Q1 2024.
"By leveraging our extensive experience and knowledge accumulated through the development of millimeter-frequency wireless communication ICS and 24GHz radio-frequency ranging sensors, Socionext has become the first company worldwide to develop ultra-compact, ultra-low power 60GHz radio-frequency ranging sensors for automotive applications with built-in radar signal operation circuits for range-finding and angle calculations," said Teruaki Hasegawa, (Head of Socionext's IoT & Radar Sensing Business Unit).
Moreover, TDM-MIMO operation enables high-precision sensing, such as the detection of passengers when three people are sitting in a row inside the vehicle.
Following the debut of its SC1260AR3, Socionext will continue to develop products that meet customer needs and applications.
Socionext is a leader in the advancement of sensing applications through its unique lineup of radio-frequency ranging sensor devices and will serve the diverse needs of a variety of customers in this field by bringing new and enhanced user experiences.
SC1260 Series (SC1260AR3) Specifications
Key Features

TDM-MIMO operation, 3D position detection (X, Y, Z coordinate output), 3D presence/absence detection, range FFT output, automatic intermittent measurement, high performance power line noise filter,

11-bit oversampling ADC, advanced sequencer

Average Power Consumption

0.72mW at 0.1% duty cycle operation

Transmission Frequency

57.1 to 63.9GHz

Package / Size

FC-BGA / 6mm x 9mm x 1.2mm
Related Links
Radio-frequency Ranging Sensor Product Page
https://www.eu.socionext.com/solutions/iot-and-radar-sensing/radio-wave-ranging-sensors/
Product Inquiries
https://www.eu.socionext.com/support/product-inquiry.html
About Socionext Europe GmbH
Socionext Europe (SNEU) plays a major role in the worldwide activities of Socionext Inc., one of the world's leading fabless SoC suppliers. Its Headquarters is in Frankfurt, Germany with offices in Munich, Germany and Maidenhead, UK. The Munich Design and Support Center, a leader in embedded graphic solutions, specializes in hardware and software product development for the automotive sector. Maidenhead supports Socionext's IP Development & Engineering Center with a focus on ultra-high speed data conversion IP. Socionext Europe offers customers a range of innovative Custom SoC solutions for today's state-of-the-art applications with total support from start to finish. For more information please visit our website, email: info@eu.socionext.com or connect with us on Facebook, LinkedIn, Twitter and YouTube.
About Socionext Inc.
Socionext Inc. is a global SoC (System-on-Chip) supplier and a pioneer of a unique "Solution SoC" business model through decades of industry experience and expertise. Socionext contributes to global innovation in advanced technologies including automotive, data center, networking, and smart devices. As a trusted silicon partner, Socionext delivers superior features, performance, and quality that differentiate its customers' products and services from their competition.
Socionext Inc. is headquartered in Yokohama, and has offices in Japan, Asia, United States and Europe to lead its development and sales activities. For more information, visit https://www.socionext.com/en/