Socionext Introduces New 7nm ADC and DAC for 5G Direct RF Transmitters and Receivers
Lower Power and Reduced Bill of Materials Supporting Advanced Wireless Systems
Langen/Germany and Yokohama, Japan, 22. February, 2023 --- Socionext, a global leader in providing innovative custom System-on-Chip solutions for wide range of applications including data center and networking, launches a new high-speed Direct RF data converter PHY solution. This is the latest in a series of IP offerings driving advanced transceiver systems for 3GPP 5GNR/LTE and Wi-Fi network infrastructure in the FR1 and FR2 (mmWave with external mixers) bands.
The IPs were developed in TSMC 7nm FinFET (N7) process technology to allow straightforward integration for 32TRX and 64TRX single die solutions and lower power consumption compared to discrete solutions currently available in the market.
Both ADC and DAC have 12-bit resolution and analog bandwidth up to 7.2GHz. The ADC sampling rate is 24GS/s and 32GS/s for the DAC, enabling 5GNR FR1 frequency in the first Nyquist data converter frequency range.
This Direct RF IP product family delivers the full sub-6GHz instantaneous band with an internal capability to allocate up to 1.6GHz of channel bandwidth featuring carrier aggregation. Maximum is 16 channels of 100MHz (FR1) each, or 4 channels of 400MHz (FR2). Furthermore, by using the multiple DDC/DUC available in the macros, it is possible to target low-, mid- and high-range bands (e.g., n28, n40 and n78) simultaneously, without dedicated external filtering components. The result is a significantly reduced BOM.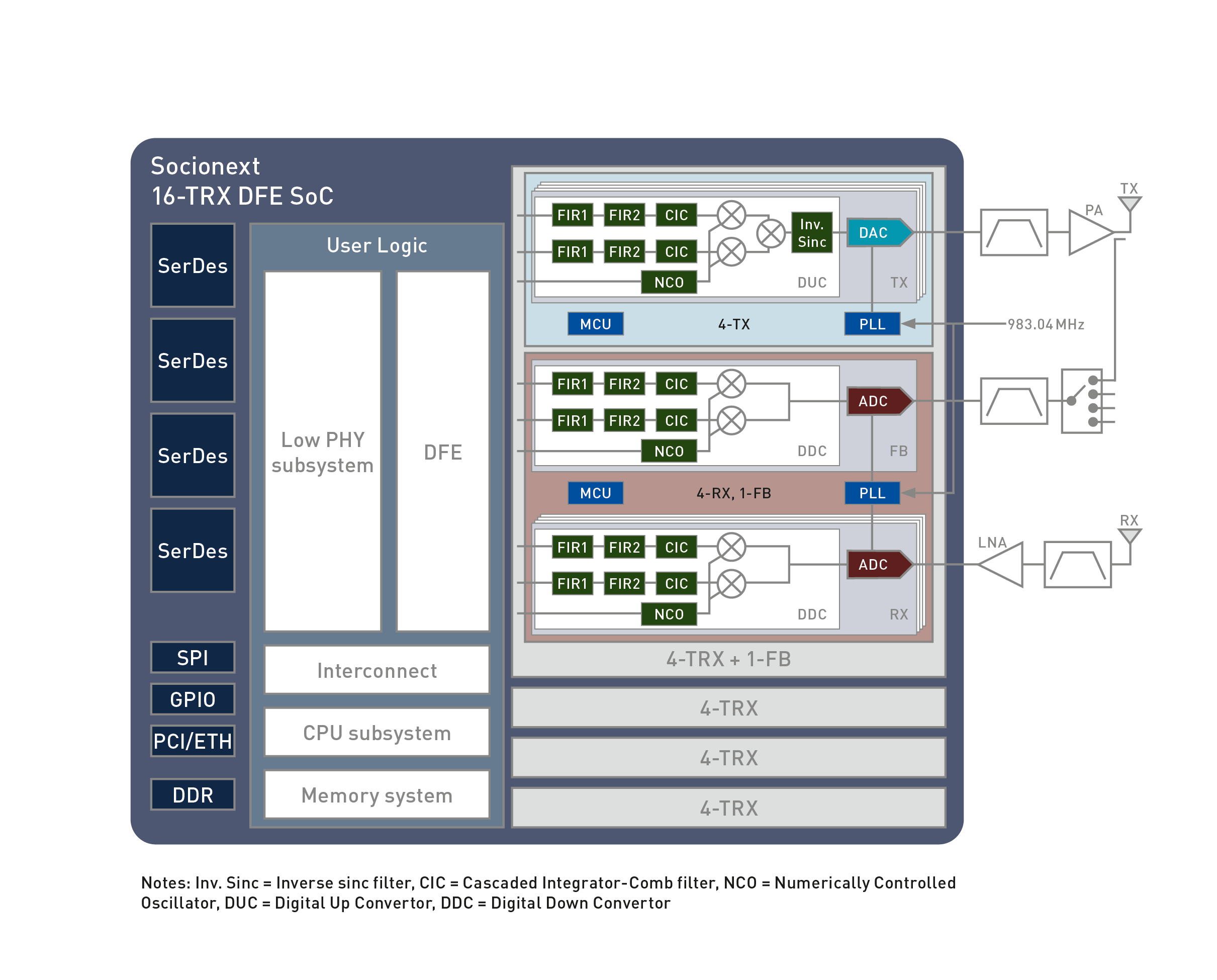 Yutaka Hayashi, Corporate Senior Vice President and Head of BU (Data Center & Networking Business Unit) said: "Socionext's new 7nm Direct RF silicon IPs are available for new product designs and mass production with a guaranteed short time-to-market made possible by Socionext's global solid post-silicon supply chain. The Direct RF test chip and evaluation board are now sampling to select customers. A dedicated application board with full ADC/DAC and real-time streaming will be available in Q3, 2023".
SoC Integration
The complete Socionext SoC solution includes a foundation of IP building blocks such as short, medium and long reach SerDes up to 112/224Gbps, PCIe Gen4/5/6 PHY, eFPGA, DDR and several standards-based, die-to-die interconnect technologies for managing data flow across the data infrastructure and chiplets on MCM.
This 7nm data-converter development follows numerous successful 16nm and 28nm designs using Socionext's high-performance ADC and DAC design expertise for networking applications.
Socionext integrates these IPs into other solutions such as 5G CPE, satellite communications, software- defined radio, microwave radio, test & measurement equipment and early 6G research. In a market that requires high levels of system integration, small package size and low power design, Socionext's Solutions are key differentiators for telecommunication and connectivity customers and for the most demanding environments utilizing expertise in leading-edge silicon technology and design methodology.
A Paper on the Direct RF ADC (Analog-to-Digital) converter was presented at the ISSCC in San Francisco. https://www.isscc.org – "A 750mW 24GS/s 12b Time-interleaved ADC for Direct RF Sampling in Modern Wireless Systems".
About Socionext Europe GmbH
Socionext Europe (SNEU) plays a major role in the worldwide activities of Socionext Inc., one of the world's leading fabless SoC suppliers. Its Headquarters is in Frankfurt, Germany with offices in Munich, Germany and Maidenhead, UK. The Munich Design and Support Center, a leader in embedded graphic solutions, specializes in hardware and software product development for the automotive sector. Maidenhead supports Socionext's IP Development & Engineering Center with a focus on ultra-high speed data conversion IP. Socionext Europe offers customers a range of innovative Custom SoC solutions for today's state-of-the-art applications with total support from start to finish. For more information please visit our website, email: info@eu.socionext.com or connect with us on Facebook, LinkedIn, Twitter and YouTube.
About Socionext Inc.
Socionext Inc. is a global SoC (System-on-Chip) supplier and a pioneer of a unique "Solution SoC" business model through decades of industry experience and expertise. Socionext contributes to global innovation in advanced technologies including automotive, data center, networking, and smart devices. As a trusted silicon partner, Socionext delivers superior features, performance, and quality that differentiate its customers' products and services from their competition.
Socionext Inc. is headquartered in Yokohama, and has offices in Japan, Asia, United States and Europe to lead its development and sales activities. For more information, visit https://www.socionext.com/en/.